One of the biggest challenges in music rights is matching the usage of a recording to the underlying composition. Our industry's unique structure means that the vast majority of revenue is driven by the exploitation of recordings by artists and record labels, while the underlying copyright is usually owned by a different entity entirely — the publisher or writer. Almost any time a piece of music is used we need to identify the original song behind the recording. And a single song may have thousands of different recordings. Just think of all those cover versions of Yesterday or Unchained Melody.
Blokur was approached recently by Universal Music Group's brands team to help them with exactly this conundrum. UMGB was in the process of licensing a list of recordings for a branded playlist campaign with the chocolate company Ferrero. That meant clearing the publishing rights for the underlying compositions. But the links between the recordings and the underlying compositions were not known.

Matching a recording to a composition is more complicated than matching two compositions for two main reasons. First, there is no shared identifier. Recordings use ISRC while compositions use ISWC. Second, the performers of the recording are only rarely a match for the songwriters. Think The Beatles vs. Paul McCartney. Now, it may be obvious to a human that Paul McCartney is a member of The Beatles and therefore that Yesterday written by Paul McCartney and Yesterday performed by The Beatles are the same song. But computers lack the necessary context to draw that conclusion. As a result most matching systems rely on a title-based match plus a lot of manual vetting. They're slow and unreliable.
Blokur's approach is different. We use a graph-based process that examines known links between different types of entities. These entities include recordings, compositions, writers, publishers, artists and labels, and their alternative names and pseudonyms. The system compares these webs of relationships to find multi-dimensional matches that would otherwise not be possible. In simple terms the computer has the context to know that Paul McCartney is a member of The Beatles or that Bruno Mars and Peter Gene Hernandez are the same person or that That Song and That Song (live performance of remix 2019 version radio edit) are the same song.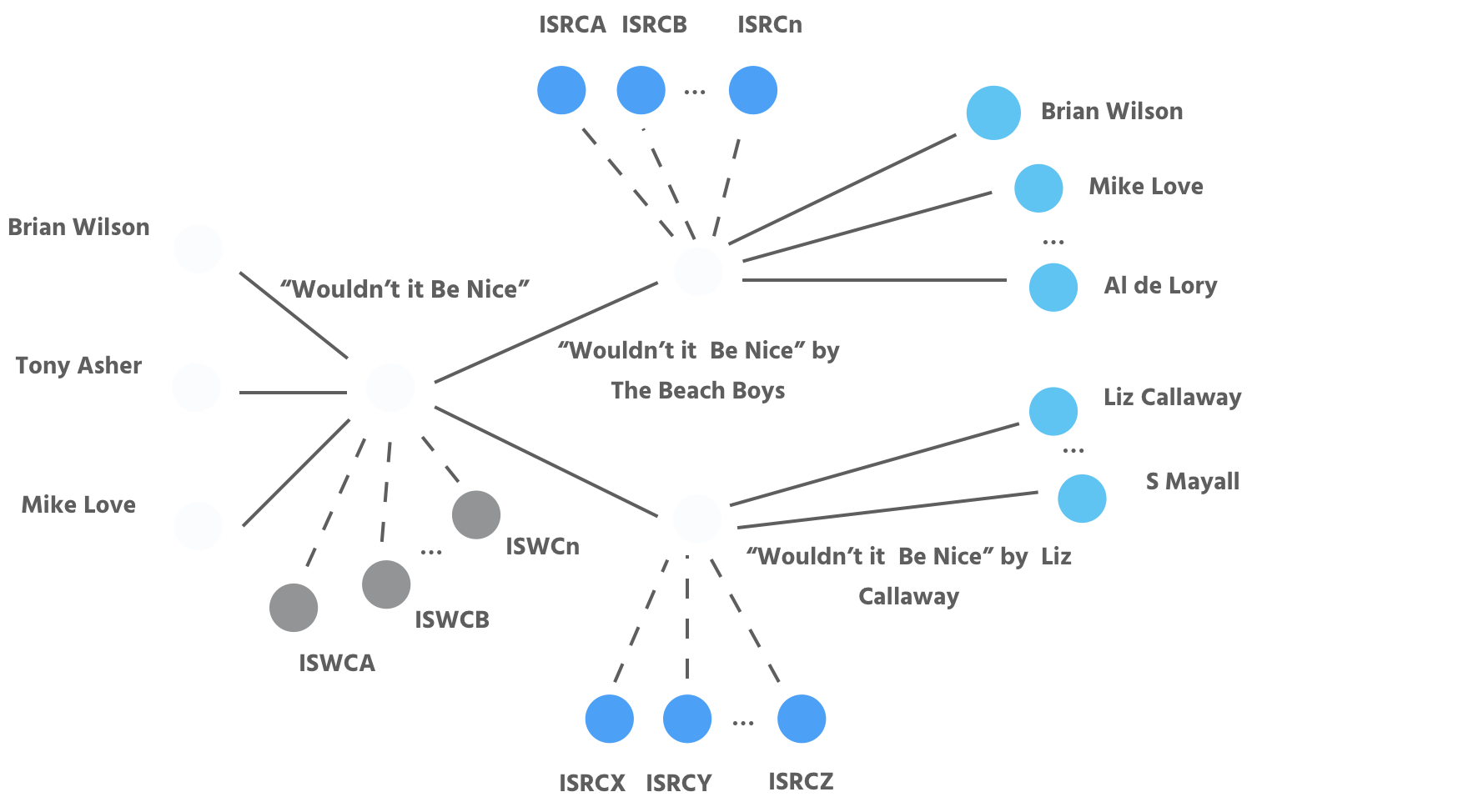 The result? Blokur was able to identify the underlying compositions, writers and publishers behind the tracks that UMGB needed to licence to Ferrero, and the playlist campaign was able to go ahead.
The good news is that our unique matching process is embedded in the Blokur platform driving work consolidation and recording-work matching on a continuous basis. That means that we are able to cut out duplicate registrations and make sure that publishers are aware of the maximum possible number of recordings of their works. Fewer conflicts and more revenue.
If you're curious to learn more about our matching tech, you can check out our blog on the subject here. Or please get in touch if you'd like to learn how Blokur can drive efficiency and revenue for your business.